The University of Southern California
How this student rated the school
Survey is Blank
Describes the student body as:
Arrogant, ClosemindedDescribes the faculty as:
Arrogant, Condescending, Unhelpful
Lowest Rating
Educational Quality
F
Highest Rating
Educational Quality
F
He cares more about Campus Aesthetics/ Beauty than the average student.
Date: Jan 08 2006
Major:
Political Science
(
This Major's Salary over time
)
I really disliked my experience at USC, because the students are close-minded…just too conservative for me. Must be the fact that they come from rich families who favor republicans…or something. Don't get me wrong, some students were okay to hang out with, but the majority of the students at SC were from the SoCal area..and tend to have this materialistic snobby attitude. Yes, I have to be frank that a huge handful of the students at USC are snobs, drive nice cars…it's no joke..it's the dirty truth. Some of my instructors were not nice to me because I'm different…my appearance…my ethnicity …etc. It's a semi-racist school. Students are also materialistic about USC football, and seem to only care about that as a sort of entertainment. What about other entertainment such as seeing a drama play you ask? Nope…don't expect to find that kind of an art-lifestyle at USC. The connections at USC…is a complete blow-out…I repeat…a FAKE BLOWOUT!! It's only for USC students who have mommies and daddies who have deep pockets and know other "rich" trojan alums who can find you a boot-licking job. Note you also must have blonde hair and blue eyes. It's not like a trojan alum… part of the so called "Network" …is bound to be a donald trump figure, waiting to give you a six-figure salary. I just didn't blend in with USC and the SoCal atmosphere and lifestyle, as you now can insinuate, I'm from out of state. LA life was a culture shock, due to many rude crassless students/locals I've encountered. They would place their feet on the back of my chair, talk loud on their cell phone in the Leavey Libe while I was studying, people drive like maniacs in LA…the laundry list goes on about the horrors of smell-A. LA locals also seem to be very stressed out…which is opposite to what people say that "LA has a laid-back lifestyle." I have lived in Oregon, Hawaii, and Missouri…never felt so much pain and suffering in a hell-hole like LA. I also will never forget my hell-like experience living in the dorms. I hate to put up with frat kids throwing trash in front of my dorm door, placing condoms on my doorknob, placing underwears on my doorknob, writing racial slurs on my door, neighbors blasting their music to deprive me of sleep. Guess what my RA told me to do? She told me to move out of the dorm, rather than help me resolve the problem. I even had to call campus DPS several times since the RA wasn't there…or simply would side with the brats in my dorm hall. USC is such an expensive school, and usually the mediocre students from high school get admitted to SC. This is why I was not a "wow" factor during high school graduation as opposed to some of my classmates who went on to Northwestern, Yale, UNC Chapel Hill, UCLA, UMich..just to name a few regarded "great" classmates in high school. I was more of the studious type of student, who took my academics seriously…unfortunately…USC never provided me this kind of atmosphere…but rather, an atmosphere where students were jerks, who partied all night blasting their music until 4AM (despite me politely asking them to turn down the music), vomitted on the dorm floors after drinking beer and simply made life miserable for me. As of now, I'm not employed…still in school…actually grad school. I made a vow after graduating in 2004 fall to never …NEVER..EVER…donate a single penny to my alma mater. That's how PISSED I am about this school, how it has treated me, and how much my experiences at USC has traumatized me. I will also never let any of my kids apply to this school, even if it rises in the US
fraud
news Report. There are plenty of top-ranked colleges out there where the students are friendly, get along well..unlike the spoiled materialistic people of USC. Lastly, I am ashamed to tell people I went to SC…because they laugh at the students' arrogance and attitude in and out of school. I usually tell others I attended UC-Berkeley or UW.
Responses

This about sums it up for me too.

Lol sorry you had such a negative experience, but college is what you make of it and that attitude kind of sucks.

If his attitude sucks it'd because SC sucks. Should have gone to UCLA it's more progressive and multicultural. Fuck USC.

USC is all about profit and bringing in kids from China's political elite to fill coffers. Talk about conformist and mediocre.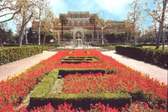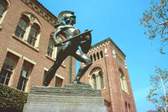 Similar Colleges by BUDGET