The University of Southern California
How this student rated the school
Alumni Survey
Describes the student body as:
Describes the faculty as:

Lowest Rating

Highest Rating

Date: May 09 2005
Major:
Business - Management and Administration
(
This Major's Salary over time
)
I have to agree with some of the negative comments here about Marshall Business school and how it affects your chance on getting into professional or graduate school. The B-minus curve is flat out ridiculous. Tell me, if you're gung-ho about this ridiculous curve, if other profession or grad schools give a rat's arse about Marshall's reputation? From what I hear from admissions officers from graduate programs, they look at the GPA..it's the numbers game. And the "reputation" factor only plays if you graduated from an Ivy League school. Since when was Marshall B-school Ivy-League level? Not up to par as I know. I've also had some good instructors while at Marshall, but a lot of snotty, rude and unfriendly professors. Like somebody here stated, I first thought USC was a great college due to the campus and the student activities going on (i.e. football games, concerts). So yeah, those are the good side of SC. But I soon realize how selfish a lot of the students are,…and making "money" is the main objective of many students at Marshall. Getting back to the ridiculous B-minus grading curve, it seriously affected my chance of getting admitted to the MBA program of my choice. USC was a complete waste of money and waste of time. Not to mention there's so much beauracracy at this school. I had to get the dean of the department to sign a recommendation form. Rather than having the dean of the Marshall school sign it, I had to go to Student Activity VP to get it signed. It's all about the run-arounds. Dorm life was ridiculous as well. I was surprised how little the students here study compare to Ivy League colleges, the U Calif colleges and even other so called "lower-ranking" colleges. Heck, I could have bust my butt off and got a very high GPA at a Cal-State institute or a small no-name private college…and get admitted to a very decent MBA program. Marshall needs to wake up, gets its head out of its arse and acknowledge the fact that its "good" reputation only lies in the Southern California (excluding San Diego) area. If I were to tell somebody (i.e. an admissions officer) my low GPA from Marshall B-school (I'm talking 3.1 - 3.4…that's not too low…but isn't competitive for admission to grad programs) is excellent to an outsider in New York, Illinois, Texas, Florida, Washington State…etc…they'd laugh at me as if I were on crack.
Responses

Marshall doesn't have a B- curve. Putting that aside, I'm trying to reconcile your comment that you were a B/B student even though you were "surprised how little students here study." If the competition is so low, why were you only an average student?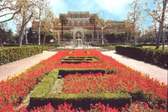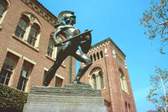 Similar Colleges by BUDGET