How this student rated the school
Alumni Survey
Describes the student body as:
Describes the faculty as:

Lowest Rating

Highest Rating

Date: Feb 19 2005
Major:
History/Histories (art history/etc.)
(
This Major's Salary over time
)
Yale Grad School was a lot of bullshit at times, but I can't bitch too much, since the university picked up the tab for my education. Some grad students there were absolute assholes and some were absolutely brilliant. The brilliant ones either never finished the dissertations or wound up not becoming academics. So all the bonding and networking was for naught, though I learned more from my colleagues than from most profs. Some profs were super—hardworking, brilliant, demanding, friendly—and gave a lot of themselves. Some profs were Yale undergrads--> Yale Ph.D.s--> Yale tenured profs. What wasted lives! It was the ol'boy network back in the day. I don't know if things have changed any. The name YALE is everything. Go abroad and say, "Yale" to an illiterate washerwoman, and she will clean your clothes for free. (That's a metaphor, son, but a damn good one.) The library was Paradise. Any book, any article, any interlibrary loan you wanted. The staff turned a blind eye to photocopying restricted materials. Their job was to facilitate your research. Lots of neat perqs, like the fine health plan and the gym. The university staff treated grad students like demi-gods. TAships were nice, since undergrad kids were smart (sometimes rich and lazy, often filthy rich and arrogant, but smart nonetheless). New Haven was a dump. Get a car. Wait! My car was stolen from an Olive St. lot (that's after my battery was stolen some months earlier). Don't get a car. Find a friend who drives, and get out of town from time to time. There was a significant amount of pressure that the profs and the other grad students applied—oneupsmanship and all. Needless to say, I ran five miles a day and smoked a lot of dope there for a while, just to keep my head clear.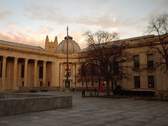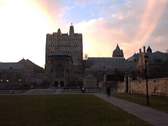 Similar Colleges by BUDGET