The University of Southern California
How this student rated the school
Alumni Survey
Describes the student body as:
Describes the faculty as:

Lowest Rating

Highest Rating

Date: Jan 24 2005
Major:
Business - Management and Administration
(
This Major's Salary over time
)
I will be very honest, that USC was not a good school of my choice. I am an alum of the business school, and I got treated like crap. It was the professors and a good handful of students who made my experience at SC a lousy one. First,..the instructors. Some of the dumb instructors I had were either boring or played favoritism. Yup, favoritism because you had blue eyes and blonde hair. Next are the students. I had a horrible student life living in the noisy hell-hole dorms on campus. Students next door drinking and making LOUD noises until 4:30AM, my freshmen roommate coming home drunk at 3:00Am when I had an exam the next day, the student three doors down the hall blasting his radio or playing his electric guitar when it's quiet hours. The RA's also don't give a rip. I've complained so many times about the noise problem, and they told me to move out of the dorms. Gee,..what a friendly staff member huh? Next negative aspect of USC is the frat scene. If you're not part of it, then don't expect them to talk to you. I've had many snotty frat girls not wanting to talk to me or even look at me simply because I wasn't part of an frat. Then there's football footbal football. Look, don't get me wrong..you should go out and watch some games. But the whole school is caught up with football, the libraries around campus are filled with noisy fans trying to use the restroom. For pete's sake, have those noisy fans and non-academic oriented students pee someplace else while hardworking students study! USC claims to be a bigname institute…but to be honest,..it has a long way to go in order to join the ranks of Harvard, Yale, Northwestern..and even their "crosstown rival" UCLA. USC may be climbing the ladder inch by inch according to the US News Report…but that ranking doesn't really reflect the quality of the instructors. Speaking of rivalry, I find it so annoying that USC students bash UCLA 24-7. I understand if students bash UCLA during football game week. But for all or most of my classes, I hear airheads talking about how USC's engineering program is better than UCLA, how safer USC's campus is compared to UCLA (which USC is NOT!) and all other moronic bad-mouthing going on between Trojans. Lastly, living in LA is horrible. As you can assume from my description of LA, I'm was an out-of-state student. I didn't like the HORRIBLE traffic commuting from my apartment to campus, and the LOUSY drivers LA has to offer. No wonder my insurance rate was so damn expensive! Next, you have jerks who reside in LA. They walk 1cm past you and say "excuse me" and rub things in your face as if you were wrong. Oh…not to mention the toxicity in the air called smog making the brown skies of LA so "beautiful". Beautiful my foot. I think the many So cal natives who attend USC are really geocentric and never had the balls to apply to collegs outside their state, nor have they even been outside of LA. They always give me this vapid common response like, "Oh, I love the sunny so cal environment." Yeah right..more like I love breathing harmful smog, sitting in traffic wassting my life, wasting time waiting in LONG lines at the hospital, supermarket, theaters, I love being treated like a dog…pfft…but that's the truth. Anyhow, USC didn't match me…but for those of you prospective students with a brain and those of you who have common sense,…don't apply to USC nor send your kids here.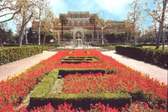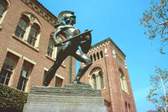 Similar Colleges by BUDGET