The University of Southern California
How this student rated the school
Alumni Survey
Describes the student body as:
Describes the faculty as:

Lowest Rating

Highest Rating

Date: Aug 05 2004
Major:
Communications
(
This Major's Salary over time
)
I read several critical reviews of U.S.C. on this site, as well as several posts bashing the Greek system at U.S.C. and all I can say is sour grapes ! Many of these same people also criticized the weather, the neighborhood, and Los Angeles in general (see a pattern ?) clearly these people were a bad fit looking to blame any and everything except themselves. I loved the school, I was part of the Greek system, and I thought the entire experience was fantastic. In reading some of the things people critical of the school and the Greek system have written all I can say is that people who post these types of comments are disaffected losers and would feel out of place anywhere, not just at 'SC. It's not a bible college in Eastern Texas and nothing against schools like that but if you don't belong you don't belong, don't blame the school because you chose poorly.Greek life is a choice and granted it isn't for everyone, but there were lots of clubs and organizations at school that I didn't join, that doesn't mean I begrudge their right to exist or feel the need to criticize them. I went to the school knowing about 3 people, none of them well, I came out with a group of tight buddies who 15 years later I still talk to or e-mail with weekly, several of whom were in my wedding. Did we drink and party ? Yes we did, to me that is part of college and growing up. We had fun, if you want an apology for that I don't have one to give you.True story: One summer during school I was looking for a job and met a guy during a career night at my fraternity who was president of an ad agency based in the Mid-Wilshire section of L.A. I asked him for an interview and he agreed. When we met his first question was "so what part of the ad business interests you ?" I gulped, there were different parts ? He laughed and we chatted for awhile, at the end he indicated I should make an appointment to meet the V.P of the agency which I did. I came back a week later and met with the V.P. and as we began to talk one of the first things the he asked me was how I knew the President ? I replied "same college, same fraternity" whereupon the VP reached across his desk, gave me our fraternities secret hand shake, and hired me on the spot. He too was an alum both of 'SC and the same fraternity.To me that is the power of an 'SC education that you just don't get at other schools and people from other schools just don't get. Sure secret fraternity handshakes might sound silly, I grant anyone that, but the connection that underlies them is not, and as for the silliness, well I laughed all the way to the bank that summer.Yes, the school is in a rough area, if that bothers you don't go.I loved the 'SC experience and it has been invaluable in my career, as have the lifelong friendships I developed as a member of the Greek system. That isn't to say my way is the only way, but if you are an outgoing, social person who isn't afraid of a big urban environment this is a great school with huge upside potential for any grad.
Responses

HiI have got admitted to USC for masters in EE,communications…should I take itMy other admits are syracuse Umass lowell, univ of missouri rolla,texas arlington,san jose plz advice me…thanks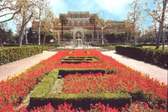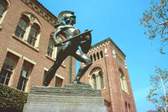 Similar Colleges by BUDGET