The University of Southern California
How this student rated the school
Alumni Survey
Describes the student body as:
Describes the faculty as:

Lowest Rating

Highest Rating

Date: Mar 24 2004
Major:
Other
(
This Major's Salary over time
)
I loved my time at USC. I think I can provide a different image of this school based on my background/activities/etc. and hopefully dispel some of these rumors. First of all, let's get over the idea that everyone is is shallow and rich and from Southern California. I am NOT rich, not shallow and I grew up overseas. I was in a sorority, but I joined my sophomore year and I was also on a scholarship. I never had a car while attending USC and still managed to have a fabulous time. The USC campus is not located in the best area of Los Angeles, but its community relations are part of what earned it the spot as top university as awarded by Time Magazine in 2000. The academic possibilities are limitless. I was always able to meet with professors when I needed to and feel confident that I can continue to call on them to assist me in the future. I have heard some stories about difficulties with academic advisors, but you are going to hear such stories at any school and I never had any problem getting help with my schedule from advisors in three different departments. I found my current job through a listserv set up by the IR department and continue to get great job, internship, and fellowship opportunities. The Trojan Network is truly amazing. Is USC a party school? Let's just say that if you want to have a good time, there are plenty of ways to do that? Are fraternities and sororities the only way to do it? No! Do you have to go Greek? Of course not. Does it help to love sports at USC? Yes, if you want to safely make it through the middle of campus on game day. :) USC offers so much to its student body. There is a place for everyone and something for every interest. Couple tips. Get involved in a couple things. I sang in the Gospel Choir and tried club sports. Try and sign up for the film class 466, where you'll get to see movies before they come out in the theaters. It's awesome! Try something new and make the most of your undergrad years, regardless of where you decide to go. And don't think that by NOT going to USC, you are going to be able to avoid drunken students, obnoxious roommates, snooty girls, overzealous football fans or any of the other characters that make college interesting. Remember that as important as learning in college is, it's what you learn about yourself that is most important.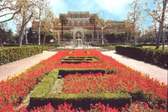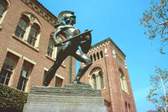 Similar Colleges by BUDGET